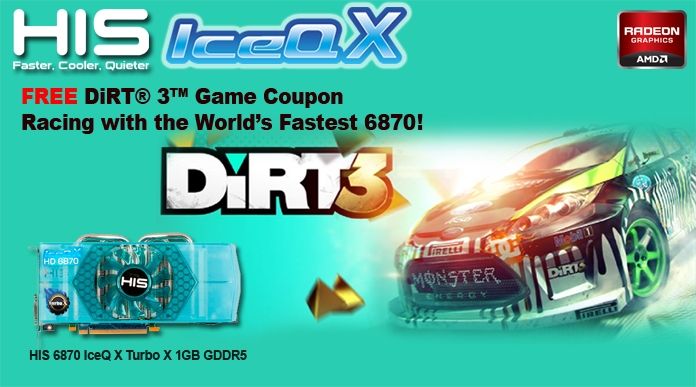 TODAY HIS is pleased to bring you an exciting game bundle for our valued customers who purchase HIS IceQ X Series graphics cards. Starting in Mid-June 2011, any customer who purchases qualifying HIS IceQ X Series graphics cards will receive a DiRT® 3™ full game coupon (US$49 value).

To thank you for our customer's continued support, our HIS 6770 IceQ X to 6970 IceQ models will be bundled with DiRT® 3™ game coupon while other HIS 6000 models will be released in game version and standard version. Enjoy your immersive game experience with our HIS IceQ X Series graphics cards.
NB: HIS DiRT® 3™ game bundled graphics card will be available worldwide in Mid-June 2011, except mainland China (Offer good while supplies last). Please contact your local distributors/ resellers for the availability of this game coupon in your regions.

About DiRT® 3™
Get ready for DiRT® 3™! Race through the snow, rain and dirt and experience dramatic night races with the most rally content in the series yet. Express yourself in the stunning new Gymkhana mode, inspired by Ken Block's incredible freestyle driving event, and upload your best runs direct to YouTube! Compete in iconic rally cars representing 50 years of the sport, from the classic Audi Quattro to the 2011 Ford Fiesta WRC, and take on all game modes in split-screen and competitive online multiplayer. Competing as a professional rally star you'll enjoy intense racing across three continents – from the forests of Michigan to the infamous roads of Finland and the national parks of Kenya. Powered by Codemasters' award-winning EGO Engine, DiRT® 3™ features Flashback to rewind time and genre-leading damage. DiRT® 3™ is the ultimate off-road racer.
For more information about DiRT® 3™, please visit –
DiRT® 3™ Game coupon bundled with the following HIS 6000 models:
6990

6970



6950








6870




6850



6790


6770

6750

6670


Where to buy:

Join the Kingdom of Gamer!

HIS is now on Facebook!

Follow HIS on Twitter!

About HIS
Founded in Hong Kong in 1987, Hightech Information System Ltd. is an internationally acclaimed graphics cards manufacturer. Commitment to Excellence is the bedrock of the company. HIS is proud to be ATI's Authorized 1st Tier AIB Partner, Certified Partner and Launching Partner. Up to the third quarter of 2010, HIS has won over 1,100 awards with ATI graphic solutions from major media all around the world. The performance-leading and award-winning models range from entry level to the most professional level products. HIS have proven to offer far superior, cooler, quieter and faster graphic cards than any other leading rivals. For further information, please visit the web site at http://www.hisdigital.com.